Archive for nicolekubon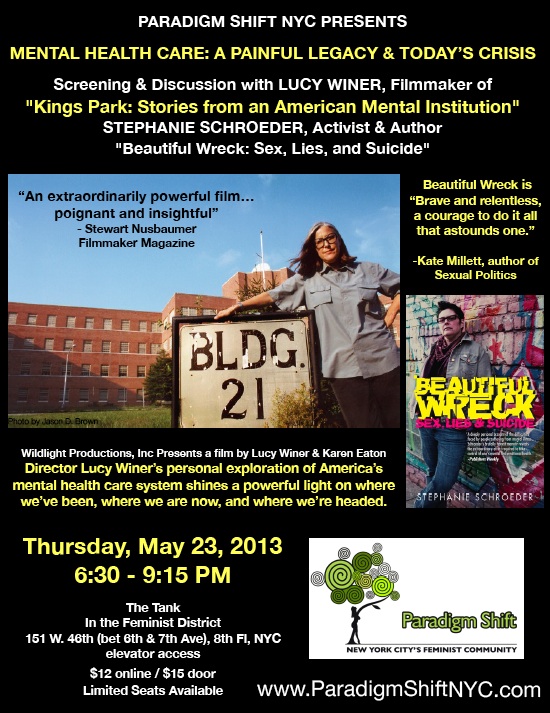 PARADIGM SHIFT: NYC'S FEMINIST COMMUNITY PRESENTS
MENTAL HEALTH CARE: A PAINFUL LEGACY AND TODAY'S CRISIS
Screening & Discussion with LUCY WINER
Filmmaker of "Kings Park: Stories from an American Mental Institution" and
STEPHANIE SCHROEDER, Activist & Author "Beautiful Wreck: Sex, Lies, and Suicide"
Thursday, May 23, 2013 at 6:30-9:15 PM
The Feminist District- The Tank- 151 W. 46th St. (b/t 6th & 7th Ave) 8th Floor, NYC 10036, elevator access. Subway: N,R,Q to 49th St. or B,D,F,M to Rockefeller Center
Cost: $12 pre-paid, $15 at door
LIMITED SEATING / Buy Online!
http://www.brownpapertickets.com/event/374137
FACEBOOK INVITE:
http://www.facebook.com/events/323218161137627
Sample Tweet
5/23 Mental Health Care: A Painful Legacy & Today's Crisis, Screening @PShiftNYC #mentalhealth http://bit.ly/12934cw
"An extraordinarily powerful film…poignant and insightful"
– Stewart Nusbaumer, Filmmaker Magazine
"A tour de force.  I have not seen anything as well made, as sensitive, nor as thoughtful."
– Howard H. Goldman, MD PhD, Professor of Psychiatry, University of Maryland School of Medicine
PARTNERS & SPONSORS WELCOME
Join as a supporting organization or co-sponsor!
Register: http://www.paradigmshiftnyc.com/sponsorship
Wildlight Productions, Inc Presents a film by Lucy Winer & Karen Eaton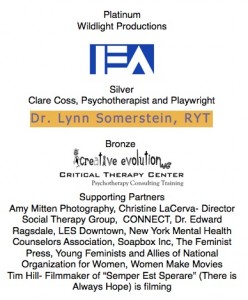 Sponsors who generously donated: Institute for Expressive Analysis, Wildlight Productions, Clare Coss, Dr. Lynn Somerstein, Creative Evolution, Critical Therapy Center
Director Lucy Winer's personal exploration of America's mental health care system shines a powerful light on where we've been, where we are now, and where we're headed.
In 1967, as a teenager, Winer was committed to Long Island's Kings Park State Hospital. Forty years later, she returns to the now-shuttered institution to face the traumas of her past. In the process, Winer goes beyond her own experience to reveal the stories of other former residents, employees, and the hospital itself, crafting a vivid record of how mental health care has changed – and faltered – in the decades since her treatment. Deftly balancing the personal and the public, Winer allows the viewer to experience the decrepit yet still foreboding buildings where she was locked away, and to share in the troubling memories of others, as a way to convey how we as a society deal with mental illness. As a result, Kings Park becomes a powerful tool – cathartic for anyone touched by similar experiences, but also an opportunity for viewers to explore and debate our current system of treatment.
LUCY WINER, Producer/Director, has been directing and producing award winning documentaries for over 30 years. Committed throughout her career to issues of social concern, her directing credits include Greetings from Washington D.C., an impressionistic look at the First National March on Washington for Lesbian and Gay Rights; Rate It X, a critically-acclaimed documentary feature about sexism in America; Silent Pioneers, the first of its kind documentary about lesbian and gay seniors; Positive: Life with HIV, a ground-breaking, four-part public television series; and Golden Threads, an ITVS-funded documentary about the unforgettable, ninety-three-year-old activist and organizer, Christine Burton. Winer's work has been distributed theatrically in this country and overseas, and broadcast nationally on PBS and cable. Her work has been called "intriguing, often hair-raising" by the New York Times; "warm, witty and genuinely touching" by the L.A. Times.  Her awards include "Outstanding Film of the Year" from the London Film Festival, a Golden Plaque from the Chicago International Film Festival, a CINE Golden Eagle and an Emmy nomination for "Outstanding Picture."
STEPHANIE SCHROEDER, AUTHOR & ACTIVIST
Beautiful Wreak: Sex, Lies & Suicide: "Brave and relentless, a courage to do it all that astounds one.  Always with a sense of humor, a jauntiness that says to hell with ordinary opinion."
-Kate Millett, author of Sexual Politics
Twenty-five year old Stephanie Schroeder arrived in New York City in 1990 with edgy good looks, attitude to burn and undiagnosed bipolar disorder. Her unflinching memoir chronicles her trajectory through the worlds of queer political activism, corporate America, intimate partner violence, unwilling parenthood, erotic discovery, 9/11…and three attempted suicides. Repeatedly falling through the cracks of the U.S. healthcare system, Schroeder became her own advocate, found help and began a healthier life. Readers will find both entertainment and inspiration in the rollercoaster twists and turns.
Stephanie Schroeder is a queer feminist writer and activist based in Brooklyn, New York.
Her work has been anthologized in the classic anthology, That's Revolting: Queer Strategies for Resisting Assimilation, Up All Night: Adventures in Lesbian Sex, Hot & Bothered: Short, Short Fiction on Lesbian Desire, volumes 3 & 4 and other erotic anthologies.  Schroeder is currently a Contributing Editor at Curve Magazine and a cultural blogger at Curvemag.com.  An independent mental illness awareness activist and advocate for social and economic justice, Schroeder is also a keen cultural observer, and her appetite for odd juxtapositions and interesting contradictions informs all of her work.  A mental health consumer who graduated from Hunter College with a BA in communications and holds a JD from New York Law School, Schroeder has a special interest in creativity and mental illness and therapeutic jurisprudence.
PARADIGM SHIFT: NYC'S FEMINIST COMMUNITY
http://www.ParadigmShiftNYC.com
Use the "F" word.
Change NYC. Change the World.
Paradigm Shift NYC is the New York City metro-area's critically acclaimed and largest feminist community group and event series. We've produced over 40 sold out lectures, discussions, screenings, and performances featuring leaders in feminist thought, that range from artists and academics to filmmakers and policy activists. Paradigm Shift NYC events challenge and inspire attendees to contribute to the feminist movement by providing a unique and welcoming platform for expression and coalition building. In early 2011, Berkeley College commissioned Paradigm Shift to produce a four-part webinar series on domestic violence, LGBTQ community building, and creating sexual empowerment. We have partnerships with over 130 progressive organizations. TimeOut New York named Paradigm Shift "Critics' Pick" on 12 occasions, an unprecedented honor among progressive organizations.  Meredith Villano, Co-Founder and Director, was honored by Feminist Press "40 Under 40: The Future of Feminism".
JOIN US ON:
TWITTER: @PShiftNYC
From Pat Reuss of the National Organization for Women:
678 days

Since VAWA Expired

182 days

Since Congress Acted on VAWA

31 days

Until VAWA dies this year
November 13, 2012
It's unacceptable that VAWA resources have been jeopardized for almost 2 years!
The election is over and it's time!
Congress has some unfinished business.
They MUST PASS the Violence Against Women Act NOW!
We must get Congress to finish the work of passing a VAWA that safely and effectively protects ALL victims.
Now that the election is over, Congress is back to work to finish up as much as they can before the end of the year.  VAWA must be on the list of work that gets done by the end of December!  Come January, the current bill expires and we will need to start again to draft a brand new bill, losing precious time and lives in the process.
Pre-election, everyone did a great job getting the word out and holding our elected officials to their obligation to address the concerns of all people.  Now we have to get them focused specifically on passing VAWA in the next six weeks!
Commit to ending domestic and sexual violence with this concrete action you can take to support VAWA:
TAKE ACTION TOMORROW!
Save Wednesday, November 14 for a VAWA day of ACTION
Every national leader will call Congressional leaders
Every state and local organizations will call Representatives and Senators
By the end of the day, every Member of Congress will hear a unified message: Work out the differences, pass VAWA before this Congress ends and you go home for the holidays.  Do not let VAWA die and miss this chance to help victims find shelter, help and justice.  There is precious little time left and victim's lives and futures are in the balance.
TAKE ACTION NOW!
Join #PassVAWA2012 Social Media Campaign
Be a part of a ground-breaking campaign to leverage the full power of social media in fighting for the Reauthorization of VAWA! Join the #PassVAWA2012 Facebook Photo Campaign to tell Congress that it's time to reauthorize the Violence Against Women Act!  It's easy, just snap photos of you, your friends, your colleagues, & sympathetic strangers holding up signs saying why we need to Pass VAWA NOW!  Submit your photos via email to lccref@gmail.com or tweetpic with #PassVAWA2012. For more details and sample campaign tweets check out the tool kit on www.4VAWA.org!
11/14/12, 11/28/12, 12/5/12, 12/12/12, 12/19/12, 1/2/13, 1/9/13, 1/16/13, 1/23/13, 1/30/13, 2/6/13, 2/13/13
Wednesdays 6:00pm – 8:00pm

CONNECT welcomes back the return of the popular CONNECT Training Institute course Understanding Men Who Batter & Abuse (UMBA), facilitated by the exceptional Dr. John Aponte and Pam Edstrom, LMSW.  At a time when the city has decreased funding for Batterers' Programs and the evident lack of Batterers' groups in NYC, UMBA's goal is to remedy this setback.  This 12 week course trains participants to investigate their own gender socialization and experiences with violence.  This course helps develop the in-depth knowledge and skills required for participants to work with abusive men in the current work practice.  It is part of a two part course series, the second part is the Batters' Intervention course.  Understanding Domestic Violence: Essentials and Intersections is a prerequisite.

John Aponte, Psy.D., specializes in working with men who are violent in their relationships with women. Dr. Aponte is a retired Police Officer who has been working in the field of Family Violence for almost twenty years. Dr. Aponte was a Police Psychologist with the New York City Police Department, before retiring in 1985. In 1984, Dr. Aponte began consulting with Victim Services Agency and helped to develop the first Batterers' Project for the Brooklyn courts. He became the Director of the Alternatives to Violence Program at Victim Services in 1985. In 1996, he became the Clinical Director of the Family Violence Prevention Program at the New York Center for Neuropsychology and Forensic Behavioral Science (New York Forensic).  Currently, Dr. Aponte is an instructor for the CONNECT Training Institute's Understanding Men who Batter & Abuse and the Batterers Intervention courses. Dr. Aponte has trained and still mentors 100's of men and women that have gone to do extensive work and that have become innovators in the work with abusive partners throughout the country.  Dr. Aponte is a member of the American Psychological Association and a member of the Association of Hispanic Mental Health Professionals.

Pamela Edstrom, LMSW, provides training and staff development specializing in family violence (domestic violence, child abuse/neglect, and child sexual abuse), parenting, grief & loss, interpersonal/communication skills, group dynamics, conflict intervention, cultural competency, stress & time management and team building.  Ms. Edstrom was the Director of Training for the NYC Human Resources Administration Office of Domestic Violence for many years and has a Masters in Social Work from Columbia University. Her undergraduate degree is in Zoology from the University of Denver. Currently, Pam is adjunct faculty for the CUNY Hunter School of Social Work and the Borough of Manhattan Community College. She is also a member of the Batterer's Workers Intervention Task Force and is on the Domestic Violence Advisory Sub-Committee for the Administration of Children's Services.
Tuesday, November 13, 6PM
Join us for a discussion about men in the feminist movement. Many men want equality for the women in their lives but the connotations that come with the word "feminism" often turn them away. Join us to sort through the tricky topics of masculinity, gender, and the f-word (feminism).

RSVP:
contact@nownyc.org
|
212-627-9895

Location:
NOW-NYC Offices | 150 W. 28th Street, Suite 304, New York, NY 10001

Subway:
N,R or 1 28th St | B, D, F, V, or 2,3 to 34th St
We'll be hosting an activist night on Feminism and Men with Special guests include Christopher Mitchell, an alumnus of the Texas Tech University Feminist Majority Leadership Alliance. He is currently an adjunct professor of women's and gender studies and history at Pace University, CUNY-Lehman College, and Rutgers University-Newark, as well as a member of the Board of Directors for the Center for Lesbian and Gay Studies (CLAGS) at the CUNY Graduate Center. He is in the process of completing and defending his dissertation in history at Rutgers University-New Brunswick, entitled "The Transformation of Gay Life in New York City from the Closet to Liberation: A Study in Late Capitalism."

The Women's Media Center Women's Media Awards
New York City | Tuesday Evening | November 13 2012
Co Chairs*
Loreen Arbus | Donna Deitch | Jodie Evans
Jane Fonda | Carol Jenkins | Robin Morgan | Gloria Steinem
HONORING
PAT MITCHELL* | President & CEO, The Paley Center for Media
Women's Media Center Pat Mitchell Lifetime Achievement Award
MARTHA NELSON | Editorial Director, Time Inc.
Women's Media Center Going the Distance Award
LAURA LING | Host and Reporter,
E! Investigates
LISA LING | Host, OWN: Oprah Winfrey Network's
Our America with Lisa Ling
Women's Media Center Sisterhood is Powerful Award
SARAH HOYE | All-Platform Journalist, CNN
Women's Media Center Carol Jenkins Emerging Journalist Award
Guastavino's | 409 East 59th Street | NYC | 6:00 pm Cocktails | 7:00 pm Dinner and Celebration
For information/inquires | 212-721-4071 | mediaawards@womenmediacenter.com


For tickets/tables | https://donate.womensmediacenter.com/mediaawards
To see our invitation as an image | http://www.womensmediacenter.com/page/-/invite-full.jpg
HONORARY COMMITTEE
Shohreh Aghdashloo
Christiane Amanpour
Amy Brenneman
Thomas & Meredith Brokaw
Stockard Channing
Julie Christie
Glenn Close
Tim Daly
Eve Ensler
Sally Field
Jeremy Irons
Barbara Kopple
Suzanne Braun Levine
Lara Logan
Jane Lynch
Irshad Manji
Audra McDonald
Renee Montagne
Soledad O'Brien
Jeannie Park
Robert Redford & Sibylle Szaggers Redford
Nell Scovell
Regina Kulik Scully
Lesley Stahl
Darren Starr
Marlo Thomas
Lily Tomlin
Barbara Walters
Katrina vanden Heuvel
Maggie Wilderotter
BENEFIT COMMITTEE
Wallis Annenberg
Cristina Azocar*
Elizabeth Bagley
David Bell
Frank Bennack, Jr. & Mary Lake Polan
Carole Black
Zoë Baird Budinger
Rhonda Carnegie
Patti Chang*
Ronald & Beth Dozoretz
Gloria Feldt*
Judy Gold*
Eva & Yoel Haller
Caroline Hirsch
Mellody Hobson
Cindy Horn
Robert Iger
Michael Lombardo
Kenneth Lowe
Lynn Nottage
Jacqueline Novagratz & Chris Anderson
Jane Olson
Melba Ruffo di Calabria
Teri Schwartz*
Leila Maw Straus
Diane & Richard Weinberg
Helen Zia*
SPONSORS
MEDIA MAVENS
Banky-Larocque Foundation
Bonnie Schaefer
Lekha Singh
Time Inc.
MEDIA MARVELS
Accenture
AMC Networks
Loreen Arbus* Foundation
Jodie Evans*
Sheryl Sandberg & Dave Goldberg
MEDIA MENTORS
AOL
Jewelle* & Nathaniel Bickford*
Comcast/NBC Universal
Abigail Disney
Lauren Embrey*
Eve Ensler
Jane Fonda*
Hearst Corporation
Home Box Office
Jan Lisa Huttner
National Basketball Association
Jane & Robert Olson
OWN: Oprah Winfrey Network
Scripps Network Interactive
Technogel® Sleeping
The Walt Disney Company
MEDIA MAKERS
AURN
Thomas & Meredith Brokaw
Capital Global
Markel Foundation
Mayo Clinic
Rowland & Sylvia Schaefer Family Foundation
Lara Stein, TED Conferences
Ted Turner
*Board & Board Member Emeritae of Women's Media Center
Please go to www.womensmediacenter.com/sma2012 to cast your vote
for the Women's Media Center Social Media Award nominee.
NOW-NYC Activist Alliance 2013
BACKGROUND:
NOW-NYC is the founding and largest chapter of NOW in the country.  We work to advance the women and girls of New York City through public education, grassroots organizing, lobbying, action, and advocacy.  NOW-NYC aims to promote reproductive rights, advance women's economic empowerment, and end violence and discrimination against women and girls.
APPLY TO VOLUNTEER WITH OUR ACTIVIST ALLIANCE:
NOW-NYC is recruiting applicants for 2013 Activist Alliance class, a dedicated group of volunteers who will commit to a one-year program with the organization. If you are a feminist with something to say and are eager to jump into today's pressing women's rights issues, apply for the Activist Alliance NOW!
Activist Alliance members will have a unique opportunity to build their feminist resumes and networks, all while learning key organizing, advocacy and fundraising skills. Activists who graduate the program will leave with a strong understanding of issues facing women – both regionally and nationally – and how to best harness their activist skills to affect change and create a culture in which women can succeed in all realms.

The Activist Alliance experience includes:
In-person activist trainings covering key women's rights issues in NYC, social media campaigning, lobbying, outreach such as tabling and petitioning, fundraising, and more.
Ongoing mentorship by NOW-NYC leadership.
Access to local women's rights leaders.
Entrance to NOW-NYC programs and events.
Hands on experience with activism, women's rights campaigns, and the nonprofit world.
Becoming part of a growing network of NOW-NYC volunteer and intern alums.
Resume builders such as nonprofit project management, communications and development experience
RESPONSIBILITIES:
Activist Alliance members will make a one-year commitment to the organization to:
Attend all activist training sessions:
(1) Saturday, January 26, 11am-4pm;
(2) Select Activist Trainings (Tuesday & Thursday nights) – Dates TBA
Participate in monthly Activist Alliance Meetings at the NOW-NYC office (held the 2nd Tuesday of each month, 6-8pm)


Commit to ongoing special projects and participate in regular events including:
*Provide ongoing support of NOW-NYC social media campaigns
*Help organize Activist Nights and social gatherings
*Spearhead tabling events, phone banking and petitioning
*Support fundraising and membership development (commit to annual goal)
*Help organize and attend protests and rallies
Approximate time commitment is 2-3 in-person activities per month (this includes monthly Activist Alliance meetings) and some weekly off-site work.

HOW TO APPLY:
Please send your resume and a completed Activist Alliance application to contact@nownyc.org. Deadline for priority applications is November 16, 2012.  Note that the application process will remain open until all positions are filled.
Activist Alliance Application Questions:
Please summarize any of your activist/volunteer experience to date (300 words max)
In your own words, briefly describe your relationship to feminism or similar perspectives (womanist, mujerist, women's rights, etc.). We understand applicants may have varying definitions of "progressive" and "feminist." Tell us clearly what those terms mean to you and how you identify with them. (300 words max)
What do you hope to achieve through participating in NOW-NYC's Activist Alliance? (300 words max)
Why do you think you would be an effective member of the Activist Alliance? (300 words max)
How did you learn about NOW-NYC's Activist Alliance?
Please list two references (academic or professional).
Applicants will be notified of their status by December. For those accepted into the Activist Alliance, the program will kick off in January with a series of in-person activist trainings.
Women & men of all ages, backgrounds and levels of experience are encouraged to apply.
NOW-NYC Rally Against Culture of Sexual Harassment in Albany
Thursday, October 11th 12:00pm – 1:00pm
Steps of City Hall ***
A poll conducted by ABC News and The Washington Post late last year found that one in four women have experienced sexual harassment in the workplace.  Sexual harassment is both an issue of equality and economics for women.  It has a real impact on women's lives— their reputation, their livelihood, their career prospects. Join with NOW-NYC, women, equal rights advocates,  unions, and good government groups to put our leaders in Albany on notice:  Assemblyman Vito Lopez's actions and the cover-up of sexual harassment at the top levels of government are unacceptable.
Bring signs with your demands: End Sexual Harassment; Albany: Stop the Cover-Up; Give Vito Lopez the Boot; JCOPE Do Justice
Directions to City Hall: 2,3 trains to Park Place; N, R trains to City Hall; 4,5,6 trains to Brooklyn Bridge/City Hall.