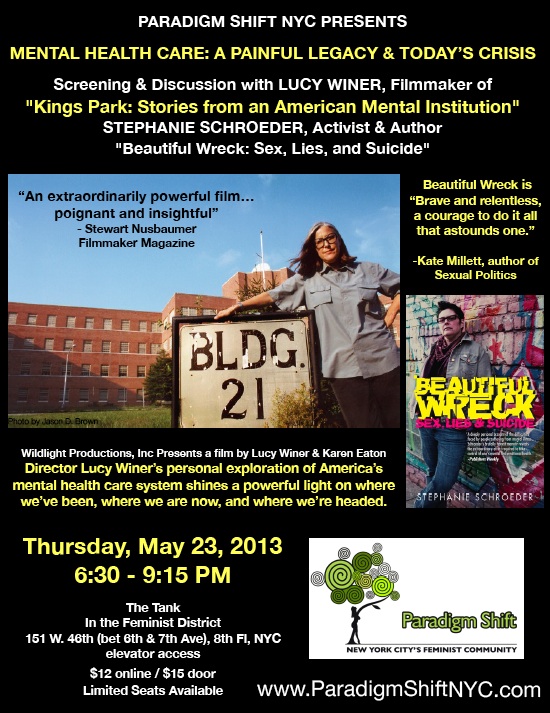 PARADIGM SHIFT: NYC'S FEMINIST COMMUNITY PRESENTS
MENTAL HEALTH CARE: A PAINFUL LEGACY AND TODAY'S CRISIS
Screening & Discussion with LUCY WINER
Filmmaker of "Kings Park: Stories from an American Mental Institution" and
STEPHANIE SCHROEDER, Activist & Author "Beautiful Wreck: Sex, Lies, and Suicide"
Thursday, May 23, 2013 at 6:30-9:15 PM
The Feminist District- The Tank- 151 W. 46th St. (b/t 6th & 7th Ave) 8th Floor, NYC 10036, elevator access. Subway: N,R,Q to 49th St. or B,D,F,M to Rockefeller Center
Cost: $12 pre-paid, $15 at door
LIMITED SEATING / Buy Online!
http://www.brownpapertickets.com/event/374137
FACEBOOK INVITE:
http://www.facebook.com/events/323218161137627
Sample Tweet
5/23 Mental Health Care: A Painful Legacy & Today's Crisis, Screening @PShiftNYC #mentalhealth http://bit.ly/12934cw
"An extraordinarily powerful film…poignant and insightful"
– Stewart Nusbaumer, Filmmaker Magazine
"A tour de force.  I have not seen anything as well made, as sensitive, nor as thoughtful."
– Howard H. Goldman, MD PhD, Professor of Psychiatry, University of Maryland School of Medicine
PARTNERS & SPONSORS WELCOME
Join as a supporting organization or co-sponsor!
Register: http://www.paradigmshiftnyc.com/sponsorship
Wildlight Productions, Inc Presents a film by Lucy Winer & Karen Eaton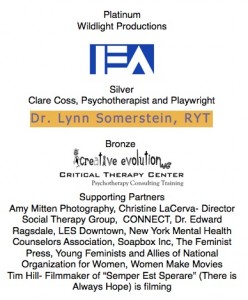 Sponsors who generously donated: Institute for Expressive Analysis, Wildlight Productions, Clare Coss, Dr. Lynn Somerstein, Creative Evolution, Critical Therapy Center
Director Lucy Winer's personal exploration of America's mental health care system shines a powerful light on where we've been, where we are now, and where we're headed.
In 1967, as a teenager, Winer was committed to Long Island's Kings Park State Hospital. Forty years later, she returns to the now-shuttered institution to face the traumas of her past. In the process, Winer goes beyond her own experience to reveal the stories of other former residents, employees, and the hospital itself, crafting a vivid record of how mental health care has changed – and faltered – in the decades since her treatment. Deftly balancing the personal and the public, Winer allows the viewer to experience the decrepit yet still foreboding buildings where she was locked away, and to share in the troubling memories of others, as a way to convey how we as a society deal with mental illness. As a result, Kings Park becomes a powerful tool – cathartic for anyone touched by similar experiences, but also an opportunity for viewers to explore and debate our current system of treatment.
LUCY WINER, Producer/Director, has been directing and producing award winning documentaries for over 30 years. Committed throughout her career to issues of social concern, her directing credits include Greetings from Washington D.C., an impressionistic look at the First National March on Washington for Lesbian and Gay Rights; Rate It X, a critically-acclaimed documentary feature about sexism in America; Silent Pioneers, the first of its kind documentary about lesbian and gay seniors; Positive: Life with HIV, a ground-breaking, four-part public television series; and Golden Threads, an ITVS-funded documentary about the unforgettable, ninety-three-year-old activist and organizer, Christine Burton. Winer's work has been distributed theatrically in this country and overseas, and broadcast nationally on PBS and cable. Her work has been called "intriguing, often hair-raising" by the New York Times; "warm, witty and genuinely touching" by the L.A. Times.  Her awards include "Outstanding Film of the Year" from the London Film Festival, a Golden Plaque from the Chicago International Film Festival, a CINE Golden Eagle and an Emmy nomination for "Outstanding Picture."
STEPHANIE SCHROEDER, AUTHOR & ACTIVIST
Beautiful Wreak: Sex, Lies & Suicide: "Brave and relentless, a courage to do it all that astounds one.  Always with a sense of humor, a jauntiness that says to hell with ordinary opinion."
-Kate Millett, author of Sexual Politics
Twenty-five year old Stephanie Schroeder arrived in New York City in 1990 with edgy good looks, attitude to burn and undiagnosed bipolar disorder. Her unflinching memoir chronicles her trajectory through the worlds of queer political activism, corporate America, intimate partner violence, unwilling parenthood, erotic discovery, 9/11…and three attempted suicides. Repeatedly falling through the cracks of the U.S. healthcare system, Schroeder became her own advocate, found help and began a healthier life. Readers will find both entertainment and inspiration in the rollercoaster twists and turns.
Stephanie Schroeder is a queer feminist writer and activist based in Brooklyn, New York.
Her work has been anthologized in the classic anthology, That's Revolting: Queer Strategies for Resisting Assimilation, Up All Night: Adventures in Lesbian Sex, Hot & Bothered: Short, Short Fiction on Lesbian Desire, volumes 3 & 4 and other erotic anthologies.  Schroeder is currently a Contributing Editor at Curve Magazine and a cultural blogger at Curvemag.com.  An independent mental illness awareness activist and advocate for social and economic justice, Schroeder is also a keen cultural observer, and her appetite for odd juxtapositions and interesting contradictions informs all of her work.  A mental health consumer who graduated from Hunter College with a BA in communications and holds a JD from New York Law School, Schroeder has a special interest in creativity and mental illness and therapeutic jurisprudence.
PARADIGM SHIFT: NYC'S FEMINIST COMMUNITY
http://www.ParadigmShiftNYC.com
Use the "F" word.
Change NYC. Change the World.
Paradigm Shift NYC is the New York City metro-area's critically acclaimed and largest feminist community group and event series. We've produced over 40 sold out lectures, discussions, screenings, and performances featuring leaders in feminist thought, that range from artists and academics to filmmakers and policy activists. Paradigm Shift NYC events challenge and inspire attendees to contribute to the feminist movement by providing a unique and welcoming platform for expression and coalition building. In early 2011, Berkeley College commissioned Paradigm Shift to produce a four-part webinar series on domestic violence, LGBTQ community building, and creating sexual empowerment. We have partnerships with over 130 progressive organizations. TimeOut New York named Paradigm Shift "Critics' Pick" on 12 occasions, an unprecedented honor among progressive organizations.  Meredith Villano, Co-Founder and Director, was honored by Feminist Press "40 Under 40: The Future of Feminism".
JOIN US ON:
TWITTER: @PShiftNYC