Volunteer Staff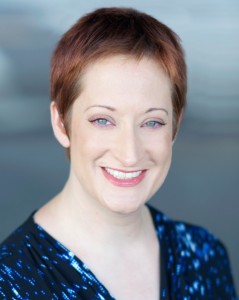 Meredith Villano, Founder and Director

Meredith Villano is an award-winning activist, organizer, marketer, and media business development executive-turned-entrepreneur. She is passionate about connecting people and ideas to create an environment that educates and inspires.
As Co-Founder and Director of Paradigm Shift NYC, Meredith has produced and hosted over 45 events featuring world-renowned pioneers and leaders in the feminist movement, along with local change-makers. Paradigm Shift's well-earned reputation for igniting far-reaching discussions and innovative collaborations led to Meredith's recognition by The Feminist Press as an honoree of "40 Under 40: The Future of Feminism," as well as her selection by the National Association of Professional Women "VIP Woman of the Year 2009/10."
Meredith was no novice to feminist programming as she launched the non-profit that brought her into the spotlight. At 19, while President of the Rutgers University chapter of National Organization for Women, she coordinated a NJ state-wide conference for International Women's Day. For her leadership and dedication to the empowerment of women and girls, Meredith was honored while still earning her BA with a Congressional Award for Community Service. She graduated with high honors in Communication with a double minor in Women's Studies and Cinema Studies.
Prior to the successes of Paradigm Shift, Meredith had demonstrated her commitment to equality through the democratization of media in other arenas. She was Director of Business Development at Magnet Media, a digital marketing agency & production company featuring independent filmmakers, artists, and tech entrepreneurs. Clients included Microsoft, Apple, Adobe, HP, Sundance Film Festival, and the National Association of Broadcasters, as well as the advertising agencies Goodby Silverstein & Partners, Grey, and Radarworks. At Magnet Media, Meredith established a new revenue stream while simultaneously closing the biggest account in the company's history after three months on the job. Later, as an independent business development consultant, she has been recognized by Aflac as #1 in revenue production in the northeast and #2 nation-wide among first-year consultants, among other top honors.
Before the birth of online video, Meredith produced television, film, and theater. Prior credits include production manager, researcher, and production coordinator of several Emmy-winning television series for Michael Moore, New York Times Television, ABC, and others. She was a theater director, playwright, and stage manager prior.
Meredith also loves tangential stories, loud laughter, amusement park rides, and karaoke – specializing in Heart, Janis, Madonna, and Sinatra.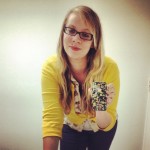 Nicole C. Kubon, Web Developer

Nicole Kubon is a queer feminist activist based in Brooklyn, NY.  Professionally, Nicole is a social worker and is currently the Program Director for Generation Q, an LGBTQ youth after-school drop-in program in Queens.  In her feminist/activist life, Nicole writes a blog entitled Decadent Depravity of our Dutiful Daughters.  Nicole is also one of the co-founders of the (Untitled Feminist Project), a grassroots organization committed to fighting rape culture.  She has a long history of anti-violence activism and has held multiple positions at sexual assault and domestic violence organizations.  Nicole was one of the co-organizers of SlutWalk NYC in 2011 and continues her sex-positive work by co-producing a body-positive burlesque show, Burlesque for EveryBody.  Nicole is also serving as co-chair of WIN.NYC's Queer Network.  She tweets under the handle @feminist_wizard.
In the tiny amount of time Nicole has left after work and activism, she enjoys reading, watching cat videos, going to queer dance parties, and scouring Netflix for new "Films featuring Strong Women."  Nicole lives in Brooklyn with her partner and her furry babies, Lyle & Lloyd.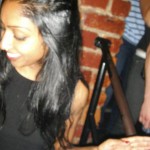 Shireen Saxena, Blog Managing Editor 
Shireen Saxena is the Blog Managing Editor for Paradigm Shift: NYC'sFeminist Community and has been obsessed with the idea of feminism thanks to her extra awesome family, friends and four years at the fabulous women's college, Barnard College of Columbia University. Shireen has consistently focused her work on mental health and violence against women, by conducting research on PTSD, working as a counselor for domestic violence, human trafficking and sexual assault, conducting clean needle exchange for harm reduction and teaching yoga.
Right now, Shireen is in Berlin, Germany working on her Masters in International Public Health and Gender Studies so her focus is on feminist issues in Berlin from a New York feminist's perspective. She'll admit, though, that life doesn't get too much better than when you're on the road with your favorite people, dancing to really good music and eating delicious food (mostly cheese).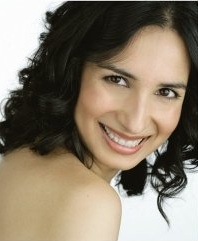 Shetal Shah, Digital Media Manager
Shetal spent many years behind the camera as a filmmaker before becoming a performer. A Maggie Flanigan Studios graduate, Shetal Shah is an actor, performance poet, filmmaker, educator and human rights activist. Shetal is the 2005 South Asian Media Awards Best Actress recipient for her role in Arya and is the host and co-producer of the hip TV show, INScene. Shetal's favorite theatre credits: Raeda Wazzan, Truth Be Told (Ensemble Studio Theatre), Priya, Caitlin and the Swan (The Management), Barsha (credited as originating the role), Barsha Badal (Spork Festival), Angelo, The Comedy of Errors (Capital Classics Theatre) Favorite Film credits: Loins of Punjab Presents, Arya and Butterfly Screams (Lincoln Center).Favorite TV credits: The Daily Show and VH1 Denmark. Shetal is a native New Yorker and first generation Indian. She performs her poetry throughout New York City, most recently at Lincoln Center and the Bowery Poetry Club.
Charlotte Longworth, Outreach Coordinator
Matthew Graham, Talent Recruiter
Laura Joy
Bloggers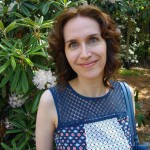 Heather Saunders
North Bay, ON, Canada
Heather Saunders is an adjunct professor in the Department of Fine & Performing Arts at Nipissing University, where she also works as a library manager. She is the author of http://artistintransit.blogspot.com and her feminist fibre art has exhibited throughout Canada and the US.
Board Members
Julia K. Weis, Board Member 2009-2015 & Outreach Manager 2009-2011               Julia Weis was a board member for Paradigm Shift: NYC's Feminist Community and has been passionate about feminism ever since her fifth grade boyfriend dumped her the week before the school dance. During her college years at New York University, studying English literature, Creative Writing and Gender & Sexuality, she served as the Editorial Assistant at Magnet Media, where she met Meredith (co-founder of Paradigm Shift) and eventually joined the PShift team.
For a time Julia worked as a Features Reporter for the Brooklyn Daily Eagle, covering topics as diverse as the 2008 election, community supported agriculture, development work in Kenya, prominent Brooklyn-based photographers and authors, as well as issues affecting the religious community. She currently earns her keep as a travel journalist and admits that life ain't that bad.
Stephanie Allred, Board Member
Stephanie graduated from the (all-women) College of Notre Dame of Maryland in Baltimore in 2006 with a double major in English and Spanish, and spent a gap year traveling in Europe, Asia, and the subcontinent before earning a Master's degree in Cultural Studies at Carnegie Mellon University in Pittsburgh in 2008, with an emphasis on postcolonialism and globalization. She is an avid Couch surfer, loves to cook, dance, and subvert gender norms. She now works in non-profit development.
Tamara Petrosino, Artist & Board Member