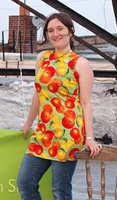 Lisa A. Snyder, Co-Founder

Lisa A. Snyder is co-founder of Paradigm Shift: NYC's Feminist Community and was part of the volunteer staff as Art Director of Paradigm Shift from March 2007 – April 2009. She has been passionate about computers, art, and music her entire life. She is the daughter of CBS Television's 1988 Emmy Award winner Michael J. Snyder, who was accredited as engineering such shows as the Evening News with Dan Rather & Connie Chung, US Open, and NFL Today, among others. In 1992, her father introduced her to the web on the computer they shared and four years later began building websites. She is a Cum Laude graduate of Syracuse University's School of Visual and Performing Arts with a Bachelor of Fine Arts in Computer Graphics. She is now one of the top web designers in the New York City and Philadelphia. With over 13 years of experience, she has headed the re-design, coordination and maintenance process of over 75 websites and 250 e-mail marketing campaigns (including Constant Contact, Intellicontact and Mail Chimp). With her creative designs and marketing guidance, she has brought in hundreds of thousands of dollars in new business opportunities in addition to greater online exposure for her clients.
Shae Smith, Web & Print Designer

Shae helped to launch Paradigm Shift TV and managed Paradigm Shift's Blog. She graduated from Smith College in 2008 with a B.A. in computer science. Out of college, she worked for Conde Nast Publications on their Online Marketing team as a Technology Analyst. She now works for Kaplan Test Prep & Admissions on their Data Analytics team. Shae was raised in Brooklyn. She lives in Bed Stuy and on her free time she works on building her web design portfolio.
Morgan Otto-Berglund, Summer Intern 2009
Morgan Otto-Berglund is a student at Smith College in Northampton, Massachusetts.  Morgan's major at Smith is the Study of Women and Gender with an emphasis in Queer Studies.  She has also studied women's involvement in history, literature, and current social issues, as well as having an academic interest in studies of peace and conflict.  She will be completing her B.A. in May of 2010.  Morgan began her women's studies career at Cottey College in Nevada, Missouri, but her passion for feminism and equality is deeply rooted in her relationship with her mother, who instilled in Morgan feminist values and concepts at an early age.  Her feminist consciousness also developed, in part, as a reaction to her upbringing in conservative, rural Nebraska, where she spent the first 18 years of her life.
Sarah Carter, Business Manager
Erin Byrnes, Community Expansion Coordinator
Erin is the Community Expansion Coordinator for Paradigm Shift, reaching out to people of all ages and backgrounds to ignite a passion for Feminism!
In 2007, Erin graduated from the University of Michigan-Dearborn with a Bachelor of Arts degree in Women's and Gender Studies.  Her time spent mentoring young women in Detroit and working with women in prison inspired her to become a New York City Teaching Fellow, and in 2008, she moved to Brooklyn to pursue a Master's degree and a career as a special education teacher.  French fries, all things vintage, discussions about gender politics, reading, writing and traveling are among Erin's top interests.  She is thrilled to be a part of Paradigm Shift, and looks forward to increasing the visibility of NYC Feminists!
Rebecca Marcus, Digital Media Specialist
Becca is the Digital Media Specialist for Paradigm Shift TV. In 2008, she graduated from Vassar College with a major in Media Studies and a correlate in Women's Studies. Becca did her senior thesis on "Gender in the Media" where she remixed the 1992 film Pretty Woman into a horror film trailer. She spent a year teaching classes at an Apple store and is now a freelance video editor. Becca is Program Coordinator at The Woodhull Institute for Ethical Leadership, a non profit that provides professional development for women. She is passionate about media literacy, female empowerment, and building forts.
Caitlin Grant, Staff Blogger
Caitlin is a senior at Virginia Commonwealth University. Her major is Spanish and her minor is African American Studies. Caitlin has served as the communications chair for the University of Virginia's Feminism is for Everyone group, written for and helped produced two Virginia feminist 'zines, volunteered for and participated in Take Back the Night, and collaborated with the University of Virginia's Minority Rights Coalition by giving seminars on feminism to fraternities and sororities. She's a big fan of bell hooks and her favorite feminist topics include reproductive justice, masculinity, and eradication of rape culture. She is very excited to work with Paradigm Shift.
Rosalind Kichler, Staff Blogger
Rosalind Kichler is a first-year student at New College of Florida in Sarasota. She is hoping to concentrate in Literature with a minor in Gender Studies. Her feminist career began at age 5 when she told the cashier at her local supermarket that he couldn't give her a pink balloon just because she was a girl; he had to ask her what color she wanted. Rosalind hopes to become a full-time journalist in the future.
Allyn Gaestel, Staff Blogger

Allyn Gaestel brought her experience with international feminist movements to her role as staff writer for Paradigm Shift. She has worked in clinical maternal and reproductive health in Democratic Republic of Congo and Senegal; social empowerment for sex workers in Senegal; rural poverty alleviation for women in Mali; sexual violence in Democratic Republic of Congo; harm reduction for women in the United States and she is a trained doula. She also is a United Nations correspondent and the women's news liaison for MediaGlobal, a development news agency, and a freelance writer.
Cristina Dominquez, Staff Blogger

Cristina Dominguez received her BA in Criminal Justice from the University of North Carolina at Charlotte and is currently a second year graduate student and teaching associate in the Women's Studies Program at San Diego State University.
During her undergraduate career, Cristina began her feminist and LGBTQ activism through her participation and leadership roles in various organizations including the Gender Excellence Learning Community, Feminist Union and OUTspoken, an LGBTQ speaker series. Her graduate career thus far has led her to be involved with SDSU's Safe Zones program, research with Dr. Cayleff on Hoover high school's Young Women's Studies club, as well as co-authoring a book review with second year and first year students. Currently her research interest involves examining the use of poetry in the queer social movement in South Africa and the ways in which this medium propels the journey of the movement, the activists involved, and the poets. After graduating with her MA in 2011, Cristina plans to pursue a career as a feminist and queer activist, writer, and poet while working for a feminist non-profit or non-government organization.
Carly Dashiell, Blog Supervisor
Carly is a student in the CUNY Baccalaureate Program for Unique and Interdisciplinary Studies, where she is concentrating in Power and Social Stratification in the U.S. (focusing largely on divisions of gender, sexuality, and race).  She is passionate about gender and queer politics, feminist outreach, and good books.
Michelle Gonzalez, Blog Supervisor

Michelle is a junior at Bard College at Simon's Rock in Great Barrington, Massachusetts. She is double majoring in gender studies and cross-cultural studies. She is the president of the women's center at Simon's Rock, has interned at the Feminist Women's Health Center in Atlanta, and has her own blog which focuses on reproductive justice issues. Michelle has also spent time traveling throughout Europe doing an independent research project on pro-choice activism and barriers to abortion access in Poland, Germany, and the Netherlands. She loves traveling, reading Judith Butler, watching movies in bed, and eating frozen yogurt.
Marissa Jeffery, Fall Intern 2010
When not blogging for Paradigm Shift, Marissa Jeffery is a student at Barnard College, pursuing a degree in English and Women's Studies. Marissa recently returned from a year abroad studying at the University of Oxford in England, and has imported back with her a love for Doris Lessing and Alpen breakfast cereal. She calls New Mexico home.
Daniel Todercan, Volunteer Video Editor

Daniel is an international student from Chisinau, Moldova; graduated in Alaska BA in Soc. Sciences; studying for Master's of Arts in International Affairs at the New School University here in New York City. He is passionate about current affairs, photography and video editing.
Liza Lopez, Event Caterer

President and Chef of Tastee Vegan
Sarah Friend, Event Volunteer