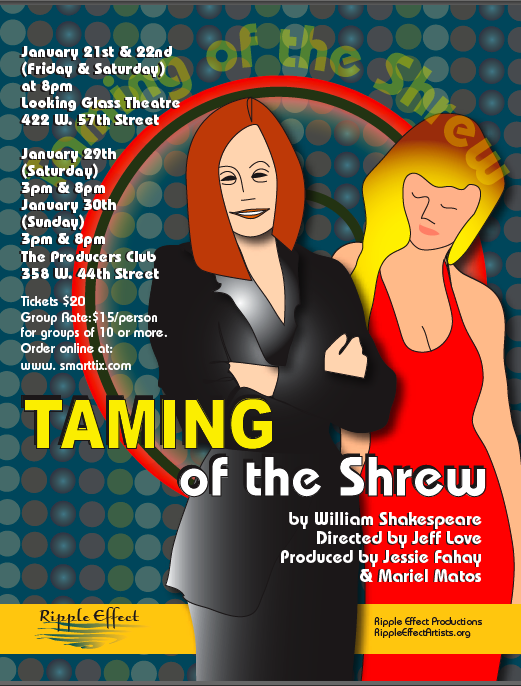 Jessie Fahay, the founder of Ripple Effect Artists, recently spoke to us about her production of The Taming of the Shrew.  By adding a feminist twist to the traditional plot, Fahay hopes to encourage audience members to ask questions, get involved, and raise awareness about important issues affecting women.  In this interview, Fahay speaks about the relationship between theater and activism, gender roles, and her upcoming performances.
What inspired you to launch your performing arts company, Ripple Effect Artists?
I knew that I wanted to start a theatre company that would not only allow me to work with the theatre professionals I chose to work with, but also a theatre company that would make a difference in the community and the world.
What is the significance of your organization's name?
When a stone is thrown into a body of water, it creates a "ripple effect."  Our company is that stone that dares to ask our audiences bold questions and make a difference, which will inspire others in their circle to take action.  We are out to create a "ripple effect," of a more connected, loving, communicative, and compassionate world.
What can the audience expect when coming to see your modern-day, feminist production of The Taming of the Shrew?
A lot of laughter, fun, and phenomenal 80's costumes!  Really, audiences can expect to feel every range of emotion from extreme joy to extreme terror to extreme sadness.
On your website, you say that the roles of women have changed since Shakespeare's time, but have also remained the same in some ways.  What differences and similarities do you see between these time periods?
This is a pivotal question.  Differences of course include that women are working, women are the bosses of men, and in many places of the world it is no longer acceptable to inflict physical harm on a woman simply because she is a woman.  Also, there are many organizations (such as Paradigm Shift) that stand for the rights and empowerment of women.  Yet, there are still similarities.  One underlying truth is that as powerful as women can be, women often live in fear—even in the United States as well as many other parts of the world.  There are places of power women still have not obtained (i,e, the President of the United States, most CEO positions, etc, etc.).   In addition, in many places of the world, women are still denied education.
Why did you decide to set your version of The Taming of the Shrew in the 1980's, rather than the present-day?
This was actually the choice of the brilliant director, Jeff Love.  This came from the thinking that the 80's was the time in which women were first given powerful roles in the workplace.  Yet, it was still acceptable to make comments about a woman's attire and to make sexual advances on a woman in the office.  This was a decade of a lot of murkiness when it came to women's roles in the workplace and at home, which is why it works for this production.
Following some of the performances, there will be a panel discussion with women's rights activists.  Who will be speaking on this panel and what can the audience hope to gain from this discussion?
There are four different panel discussions—one with employees of Paradigm Shift, one with a leader of a new female-empowerment group, one with a life-coach, and one with a female playwright.  The audience will gain information about these organizations and individuals and what exactly they do as well as gain insights into what differences can be made day-by-day.
When people come watch your performances, they are encouraged to recognize different types of inequality and ask questions.  I think this is great because it puts the audience in an active position to make a difference, in themselves and in society.  How do your performances act as a platform for activism?
Thank you for the recognition.  The answer is in the question.  We challenge our audiences by putting on performances that ask questions (not performances that make statements).  We then further challenge them by asking what differences can be made.
What do you hope the future will bring for Ripple Effect Artists?
For the next five years, Ripple effect will produce one or two shows per year following this format with different issues such as gay-rights, abuse, unrequited love, warfare, etc.  The goal of Ripple Effect is to become an Equity Company in five years with an ensemble of actors, directors, writers, and a staff, with the founder acting as the artistic director.