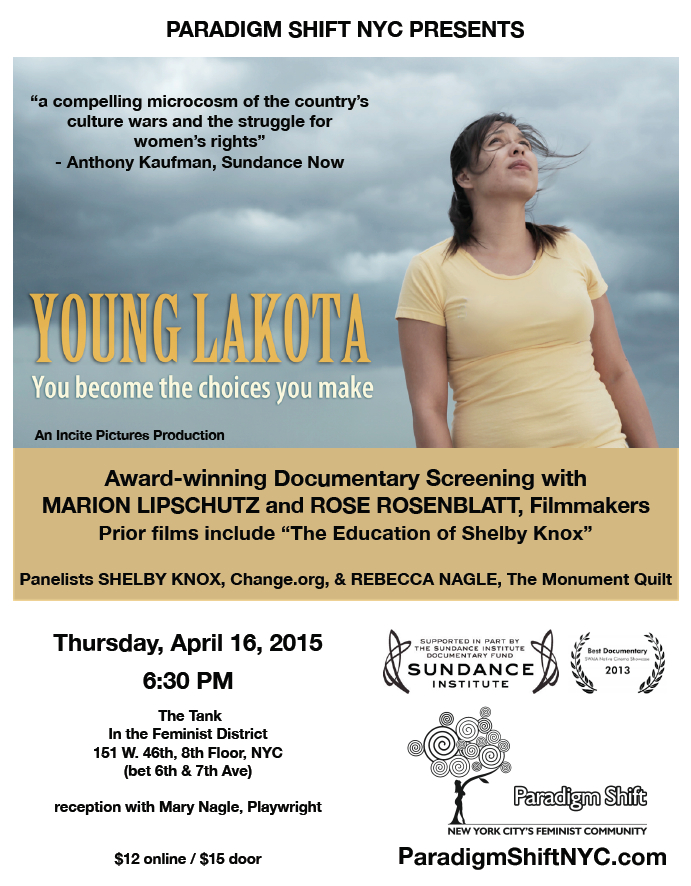 Subway: N,R,Q to 49th St. or B,D,F,M to Rockefeller Center
Join us afterwards at Quinn's, 356 W. 44th St., NYC, with all of the speakers & Mary Kathryn Nagle, Playwright of Sliver of a Full Moon
$12 online, $15 at door
Tickets- Limited Seating / Buy Online!
CO-SPONSORS

City Headshots, Blanche Wiesen Cook, Author & Clare Coss, Playwright, Electrified Collective, FORCE, The Feminist Press, Incite Pictures, The Monument Quilt, WAM!
PARTNERS: Bella Abzug Leadership Institute, Hollaback!, International Women Artists' Salon, Jesse Epstein- Filmmaker, Man Question, Manhattan Young Democrats, New York Women In Film and Television, NOW Young Feminists and Allies, Riseup/ NYC Protest Database, See Jane Do, Soapbox Inc., The Women's Mosaic, Vision Maker Media, WAM!NYC, Women and Hollywood, Women In Media & News, Women Make Movies, Women's Media Center
PARTNERS & SPONSORS WELCOME
Join as a supporting organization or co-sponsor!
Register: http://www.paradigmshiftnyc.com/sponsorship
SAMPLE POST: 4/16 "Young Lakota" Documentary Screening with the Filmmakers of "The Education of Shelby Knox" Marion Lipschutz & Rose Rosenblatt; Shelby Knox, Change.org; Rebecca Nagel, The Monument Quilt. Award-winning doc about a young Lakota woman's political awakening. Presented by Paradigm Shift NYC  https://www.facebook.com/events/806743352712110
TWEET! 4/16 @YoungLakota Screening w filmmakers, women's political awakening with @ShelbyKnox @upsettingrape @PShiftNYC http://bit.ly/1FqDdCQ
Young Lakota follows the journey of Sunny Clifford, a young Oglala Lakota woman who returns to the Pine Ridge Reservation with a dream to change the world around her. Her political awakening begins when the tribe's first female president, Cecelia Fire Thunder, defies a South Dakota law banning abortion by threatening to build a women's clinic on the reservation. Embroiled in a controversial political season that hinges on reproductive rights and tribal sovereignty, Sunny, her twin sister Serena, and their neighbor Brandon are drawn into a political firestorm that changes the course of their lives.
MARION LIPSCHUTZ & ROSE ROSENBLATT
Producers/Directors:  Partners in Incite Pictures and Cine Qua Non (a not for profit), Marion & Rose produce and direct feature documentaries that entertain, educate and explore critical contemporary issues. Titles include "The Education of Shelby Knox", "Live Free or Die", "Fatherhood USA", "The Abortion Pill" and "Code Blue: New Orleans."
Their work has been called "unique and memorable," "pure gold," and "balanced and truthful," by the Milwaukee Journal, Hollywood Reporter and The New York Times, respectively. The Washington Post wrote, "their fly-on-the-wall approach fulfills one of the glorious promises of documentary – to put us in the middle of situations we otherwise might never be in."
Young Lakota is the latest in a series of films that use the dramatic stories of individual women to explore the fraught terrain of reproductive justice. "The Education of Shelby Knox", their prior project, premiered at the Sundance Film Festival in 2005, and opened that year's POV series. The POV series also showcased "Live Free or Die" in 2000 as a November election special.
Marion and Rose's work has been broadcast on the CBC's Passionate Eye in Canada, on PBS's Point of View, Independent Lens, and many other strands around the world. Their films have won Best Cinematography at The Sundance Film Festival, The Audience Award at SXSW, The Emerging Picture Award at Full Frame, and The Jury Prize for Best Documentary at The Miami Gay and Lesbian Film Festival. Personal recognition includes The Full Frame Women in Leadership Award, The Hugh M. Hefner First Amendment Award, and a nomination for the British Index on Censorship's Freedom of Expression Award. Though their topics have been specific to the United States, they have durable international appeal, showing in hundreds of festivals, including The Human Rights Watch Film Festival, Hot Docs, The Stockholm International Film Festival, The Seoul International Film Festival and The Festival de Rio de Janeiro.
SHELBY KNOX, Senior Campaigner at Change.org & Feminist Revolutionary
As a teenager, Shelby Knox was organizing her Southern Baptist community to fight for comprehensive sex education and gay rights. She became nationally known with the release of the Sundance award-winning film, "The Education of Shelby Knox", a documentary which chronicled her activism. She's now a Senior Campaigner at Change.org, where she works on international gender justice campaigns. @ShelbyKnox
REBECCA NAGLE, Co-Founder, The Monument Quilt & FORCE
FORCE: Upsetting Rape Culture is an artist/activist effort to change the conversation about rape by mobilizing social media and producing public art events. Force is most widely known for their prank of Victoria's Secret, pretending the lingerie giant released a line of consent themed slogans on underwear. The spoof created a viral conversation about consent online, and was covered in the New York Times' annual college edition along with countless other blogs and news outlets.
Force's most recent project is The Monument Quilt, a crowd-sourced collection of thousands of stories from survivors of rape and abuse. Survivors are writing and stitching their stories onto red squares of fabric, creating and demanding public space to heal. The quilt is creating a new culture where survivors are publicly supported, rather than publicly shamed.
300 quilts were displayed in 13 US cities in August 2014 (read more on CNN and MSNBC), and we will continue to display the quilt via quilt-making workshops, in public displays across the country, until a final, historic display in Washington DC. Blanketing the National Mall, 6,000 fabric squares will ultimately be stitched together to spell "Not Alone."
MARY KATHRYN NAGLE, Playwright, Sliver of a Full Moon
Sliver of a Full Moon is a portrayal of resistance and celebration. It is the story of a movement that restored the authority of Indian tribes over non-Indian abusers to protect women on tribal lands.