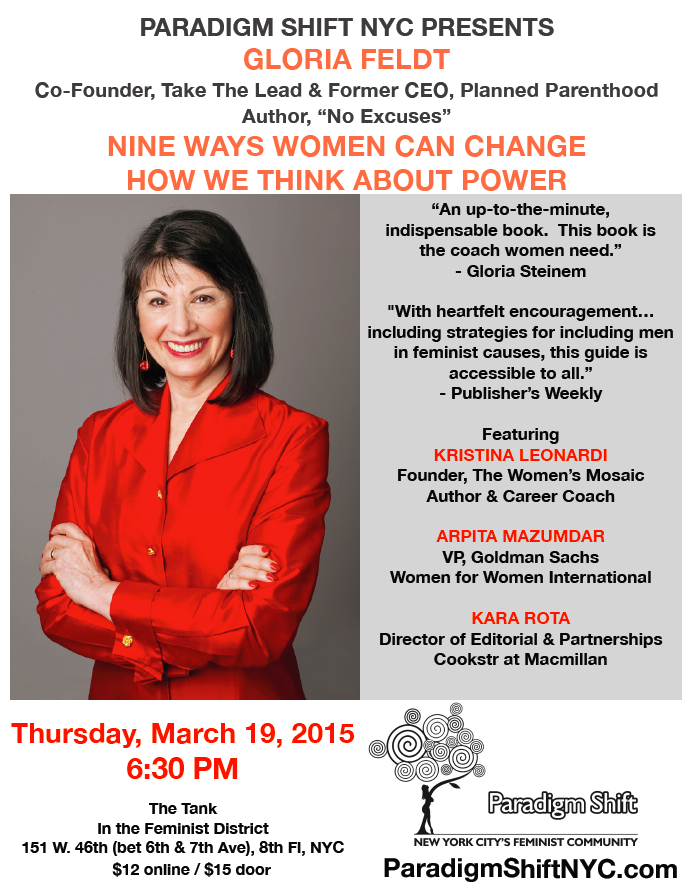 Subway: N,R,Q to 49th St. or B,D,F,M to Rockefeller Center
Join us afterwards at O'Brien's, 134 W. 46th St., 2nd Fl.
$12 online, $15 at door – Limited Seating / Buy Online!
Invite Friends on Facebook
CO-SPONSORS


City Headshots, Take The Lead, The Feminist Press, The Women's Mosaic, WAM! Women, Action, & The Media
PARTNERS: Abiola Abrams- Author & Speaker, Bluestockings, Circle of 6, Electrified Collective, FCW Society, Kelly Hoey- Strategist & Speaker, Hollaback!, In Good Company, Incite Pictures, Jamie Lee- Senior Director Operations at TreSensa & Speaker, Jennifer Silva Coaching, Man Question, Riseup/NYC Protest Calendar, See Jane Do, Soapbox Inc., Trixie Films, Adaora Udoji- CEO of outLoud Inc., WAM!NYC, Willie Mae Rock Camp for Girls, Women's Therapy Centre Institute
PARTNERS & SPONSORS WELCOME
Join as a supporting organization or co-sponsor!
Register: http://www.paradigmshiftnyc.com/sponsorship
SAMPLE POST: 3/19 Gloria Feldt, Feminist Icon "No Excuses: 9 Ways Women Can Change How We Think About Power" Presented by Paradigm Shift NYC https://www.facebook.com/events/1385951191719150
TWEET! 3/19 No Excuses: 9 Ways Women Can Change How We Think About Power with @GloriaFeldt, @PShiftNYC Presents http://bit.ly/1LnJUXM
Gloria Feldt is co-founder and president of Take The Lead, the new women's leadership movement to prepare, develop, inspire and propel women to take their fair and equal share of leadership positions across all sectors by 2025. The bestselling author of "No Excuses: 9 Ways Women Can Change How We Think About Power," Gloria is an acclaimed expert on women, power and authentic leadership, and an inspiring keynote speaker, who motivates with heart and humor as a practical activist gives practical "Power Tools" for life and leadership.
People magazine calls her the "voice of experience." Gloria's expertise in women, power and leadership comes from a deep well of personal knowledge gained on the front lines. Her journey from teen mom and high school dropout from rural Texas to president and CEO of the world's largest reproductive health and advocacy organization, Planned Parenthood Federation of America, to best-selling author and visionary leader for women's equality inspires both men and women. Named by Vanity Fair as one of "America's Top 200 Women Leaders, Legends, and Trailblazers," Glamour's "Woman of the Year," and a Women's eNews 21 Leaders for the 21st century, among other honors. A world changer who helped pave the way for women today, she believes this is women's moment to achieve parity. Her passion is to remove the last remaining obstacle: women's learned resistance to embracing their own power.
Author of four books, she teaches "Women, Power, and Leadership" at Arizona State University. Both a newsmaker and a commentator, Gloria has been widely quoted and published in media, including the New York Times, Washington Post, USA Today, Politico, Salon, The Daily Beast, and Huffington Post, and magazines including More, Glamour, Elle and Ms. She has appeared extensively on television, including CNN, MSNBC, the Today Show, Good Morning America and The Daily Show. Follow her on twitter @GloriaFeldt and connect on Facebook and LinkedIn.
Kristina Leonardi is a motivational speaker, career/life coach and author who helps men and women make the most of their personal and professional lives, allowing them to recognize, connect to, and fulfill their role in the world at large. She has presented to organizations such as Saatchi and Saatchi, UBS, HR Association of NY, American Women's Business Association, and New York's Science, Industry & Business Library.
Kristina offers individual and group coaching privately, as well as in affiliation with New York Women in Communications, and is the founder of The Women's Mosaic (TWM), a nonprofit organization that has produced over 100 events over 10 years for more than 5000 women to connect to themselves each other and the world around them. Kristina has taught extensively for NYU's Center for Hospitality, Travel and Tourism and the Center for Career and Life Planning for over 15 years. She was listed as one of Hispanic Magazines Top Latinas of 2004, received Tango Diva's 2007 Diva Visionary Award, honored by the WNBA's NY Liberty as part of their 2009 Inspiring Women Night, and has been featured in Forbes.com, Inc. Magazine, Psychology Today and The Huffington Post. She is the author of Personal Growth Gab (PGG), Volume One: Thought-provoking, inspirational and entertaining essays to keep you connected with yourself and make sense of this journey called Life (available on Amazon).  Follow her on Twitter @clearlykristina and on Facebook at Personal Growth Gab.
ARPITA MAZUMDAR
Arpita (Arpi) Mazumdar is currently a Vice President at Goldman Sachs where she is the Business Manager in Global Securities Division Management and Strategy, Office of the COO. Ms. Mazumdar comes with over 14 years of experience solely in the financial services sector and has held a variety of roles within Goldman Sachs and Citigroup. She received her BS in Business Administration from the University of Albany- SUNY, is a 2014 Council of Urban Professionals (CUP) Fellow and Executive member, as well as a VIP member of the National Association of Professional Women (NAPW). Ms. Mazumdar is very engaged in Women's rights and is currently a sponsor for "Women for Women International" – a nonprofit humanitarian organization that provides practical and moral support to women survivors of war. More recently, she joined the Board of Directors at " A Global Friendship", an international nonprofit that focuses on poverty alleviation where she looks forward to continue being an agent of change and providing opportunity to women on a global level.
KARA ROTA
Kara Rota is Director of Editorial & Partnerships at Cookstr.com, a Macmillan portfolio company and recipe site whose mission is to digitally organize cookbooks and recipes of all types and make them easily accessible. She is the host of the Clever Cookstr podcast on Quick & Dirty Tips network. Kara has been a featured speaker at numerous venues including Food Book Fair, the Roger Smith Food Conference, and the Brooklyn Food Conference. She is a former board member of Girls in Tech NYC and Angel Alliance member of the Lower East Side Girls Club, and has supported STEM education for girls as a judge for Technovation International.