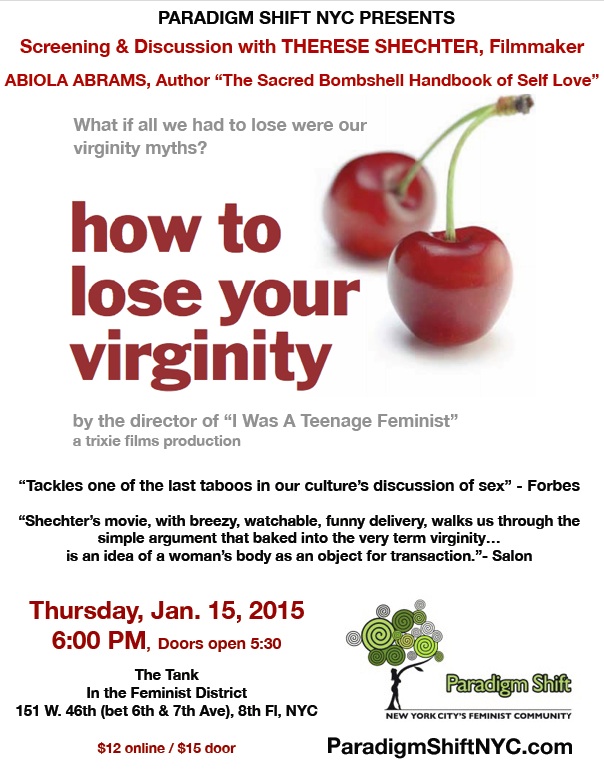 LIMITED SEATING / Buy Discount Tickets Online!  
Thursday, Jan. 15, 2015
6:00 PM, doors open 5:30 The Tank- 151 W. 46th St. (b/t 6th & 7th Ave) 8th Floor, NYC- elevator/wheelchair access.  Subway: N,R,Q to 49th St. or B,D,F,M to Rockefeller Center.  After the Tank, join us for drinks @ Quinn's, 356 W. 44th St. 2nd Fl (b/t 8th & 9th)
CO-SPONSORS Trixie Films    Women Make Movies   City Headshots

PARTNERS:  Bella Abzug Leadership Institute, Body Typed Film Project, Center for the Study of Men and Masculinities at Sony Brook University, Feministing, GetBullish.com, Incite Pictures, Man Question, Manhattan Young Democrats, New York Women in Film & Television, NOW Young Feminists & Allies, Riseup, Soapbox Inc., The Feminist Press, WAM!, Women's Therapy Centre Institute
Sample post: 1/15 "How To Lose Your Virginity" Screening/Discussion with Therese Shechter, Filmmaker & Abiola Abrams, Author "The Sacred Bombshell Handbook of Self Love" https://www.facebook.com/events/365547780297548
TWEET!
1/15 How to Lose Your Virginity Screening/Discussion, Filmmaker @trixiefilms @abiolatv @PShiftNYC @virginitymovie bit.ly/1B3l1KJ
What if all we had to lose were our virginity myths?
A trixie films production
It has launched both purity balls and porn franchises, defines a young woman's morality–but has no medical definition. Enter the magical world of virginity, where a white wedding dress can restore a woman's innocence and replacement hymens can be purchased online.
This eye-opening and irreverent documentary explores why female virginity is still so valued in our hypersexualized society. Traveling through the worlds of religion, history, pop culture and $30 internet hymens, the film reveals the myths and misogyny behind a rite of passage that everyone thinks about but few truly understand.
Filmmaker Therese Shechter uses her own path out of virginity to explore why our sex-crazed society cherishes this so-called precious gift. Along the way, we meet sex educators, virginity auctioneers, abstinence advocates, and young men and women who bare their tales of doing it—or not doing it.
THERESE SHECHTER (Director/Producer/Writer) deftly fuses humor-spiked, personal narrative with grass roots activism and new media, most recently as the writer and director of the 2013 documentary HOW TO LOSE YOUR VIRGINITY. The film has appeared on television and in film festivals in the US and all over the world. She also curates the film's online interactive project, THE V-CARD DIARIES, a crowed-sourced collection of over 200 stories of 'sexual debuts and deferrals' which was recently on exhibit at The Kinsey Institute.
Shechter was a panelist at Harvard's "Rethinking VirginIty" conference, and frequently speaks at college campuses on virginity, feminism and sexuality. Her work has been covered by Elle, Salon, The Atlantic, Feministing, Forbes, The Guardian, The Jakarta Globe and CBC's Q, among others. She herself has written for the Chicago Tribune, Talking Points Memo, Nerve and IndieWire's Women & Hollywood.
Shechter's first feature documentary, the award-winning I WAS A TEENAGE FEMINIST (2005), has screened from Stockholm to Delhi to Rio and at Serbia's first-ever Women's Film Festival. Her short documentary HOW I LEARNED TO SPEAK TURKISH (2006) won a Documentary Jury Prize at the Atlanta Film Festival, and her short film #SLUTWALKNYC premiered at the Hampton's International Film Festival in 2013.
ABIOLA ABRAMS, AUTHOR & SELF LOVE COACH
Abiola Abrams, the author of the award-winning "Sacred Bombshell Handbook of Self-Love," is known for giving bold and empowering advice on networks from MTV to the Discovery Channel. In addition to being an in-demand inspirational speaker, transformational coach, multi-platform author, and ESSENCE advice columnist, Abiola writes and broadcasts about the heart-centered lifestyle, reclaiming your personal power, and answering your calling.
Whether you call her America's Self-Love Coach, the Midwife for Your Inner Life, or a modern day conjure woman, it's time to become who we were born to be, and Abiola has the tools to help us get there. Our mothers had Dear Abby and we have Dear Abiola. She's the Olivia Pope of your personal life. Consider it handled with her personal power process that breaks through fear and the inner voices that keep us playing small.