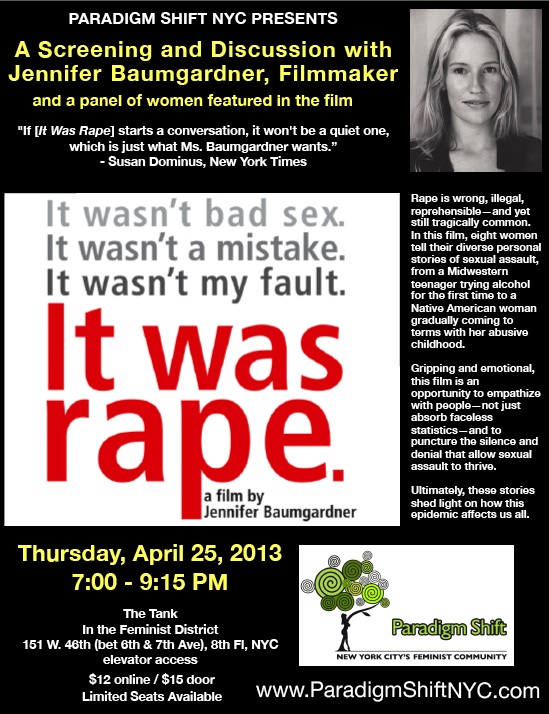 PARADIGM SHIFT: NYC'S FEMINIST COMMUNITY PRESENTS
"IT WAS RAPE"
A Screening and Discussion with
JENNIFER BAUMGARDNER, Filmmaker & Activist
and a panel of women featured in the film
Trailer
Thursday, April 25th
7:00-9:15 PM
The Feminist District
The Tank- 151 W. 46th St. (b/t 6th & 7th Ave) 8th Floor, NYC 10036
elevator access
Subway: N,R,Q to 49th St. or B,D,F,M to Rockefeller Center
Cost: $12 pre-paid, $15 at door
LIMITED SEATING / Buy Online!
http://paradigmshiftnyc.brownpapertickets.com
FACEBOOK INVITE, Twitter @PShiftNYC, #itwasrape
JENNIFER'S BOOKS ARE THIRD WAVE CLASSICS:
http://www.jenniferbaumgardner.net/fem
Paradigm Shift T-Shirts on sale at event
"If [It Was Rape] starts a conversation, it won't be a quiet one, which is just what Ms. Baumgardner wants."—Susan Dominus, New York Times
"It Was Rape" will change the way you think about this most
terrible—and most everyday—of crimes. It's heartrending, brave, and
important."—Katha Pollitt, "Subject to Debate" columnist, *The Nation*
PARTNERS & SPONSORS WELCOME
Join as a supporting organization or co-sponsor!
Register: http://www.paradigmshiftnyc.com/sponsorship
Rape is wrong, illegal, reprehensible—and yet still tragically common. In this film, eight women tell their diverse personal stories of sexual assault, from a Midwestern teenager trying alcohol for the first time to a Native American woman gradually coming to terms with her abusive childhood. Gripping and emotional, this film is an opportunity to empathize with people—not just absorb faceless statistics—and to puncture the silence and denial that allow sexual assault to thrive. Ultimately, these stories shed light on how this epidemic affects us all.
It Was Rape began screening in December of 2012. This spring it will be part of film festivals, Take Back the Night events and anti-violence programming in Alabama, Wisconsin, North Dakota, Louisiana, Ohio, New York, and Arizona. To schedule a screening in your community or to purchase the film for institutional or advocacy use, please contact itwasrape@gmail.com.
Press: http://www.jenniferbaumgardner.net/press
Jennifer Baumgardner, Filmmaker & Activist
After five years as an editor at the feminist magazine, Ms., Fargo-native Jennifer Baumgardner began writing investigative pieces for Harper's and The Nation, commentaries for NPR's All Things Considered, and contributing to magazines such as Real Simple, Glamour, Redbook, Babble, Harper's Bazaar, Teen Vogue, Marie Claire, and Elle.
Jennifer is the author of five books: Look Both Ways: Bisexual Politics, Abortion and Life, F 'em! Goo Goo, Gaga, and Some Thoughts on Balls, as well as the best-selling books about feminism written with Amy Richards—Manifesta: Young Women, Feminism, and the Future (FSG, 2000) and Grassroots: A Field Guide for Feminist Activism (FSG, 2005). In 2002, Jennifer and Amy founded Soapbox, Inc., a speakers' bureau that also produces week-long Feminist Camps and Intensives, and seeks to connect people hungry for feminism with resources and with one another.
The Commonwealth Club of California honored her in their centennial year as a "Visionary for the 21st Century," commenting that "in her role as author and activist, [Jennifer has] permanently changed the way people think about feminism…and will shape the next 100 years of politics and culture." She created and produced the award-winning documentary "I Had an Abortion" in 2005. She directed and produced "It Was Rape," and is thrilled that Paradigm Shift is supporting this event.