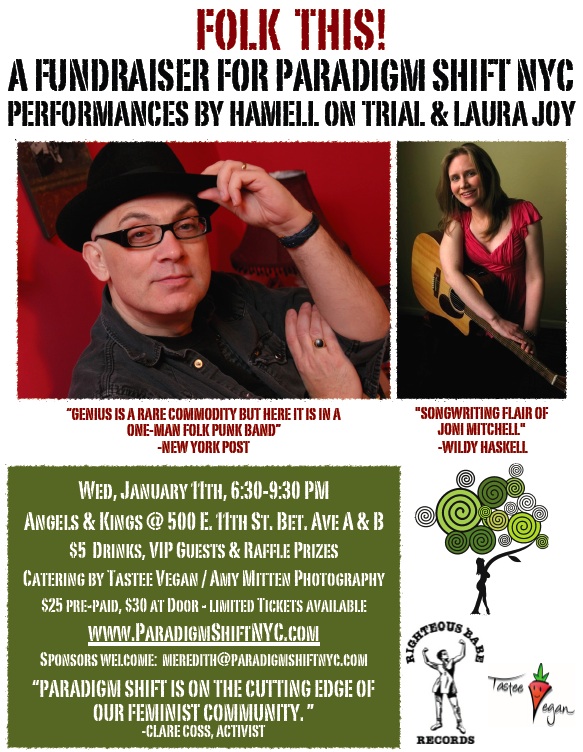 INVITE FRIENDS on Facebook Hashtag: #FolkThis
Limited Tickets Available – Buy Online:
http://www.brownpapertickets.com/event/214040
Venue requires ID
$5 DRINKS!
If you can't make it, please DONATE– we need your support!
Co-Sponsors & Raffle as of 12/30:
AFLAC NY, Patrick Hardie, District Manager * Amb3r Fashion & Design
Hollaback! * Photography by Amy Mitten * Tastee Vegan
The Feminist Press * Yoga Vida
Partners as of 12/30:
Amy Jo Goddard, Sexual Empowerment Mentor * NOW NYC
Manhattan Young Democrats * Righteous Babe Records
The Women's Mosaic * Trixie Films * WAM!NYC
Women Make Movies * Women's Media Center
Yana Walton, Feminist, Labor & LGBTQ Activist
Press: NY Daily News, Zvents Media
PARTNERS & SPONSORS WELCOME:
Meredith@paradigmshiftnyc.com
HAMELL ON TRIAL
http://www.hamelltv.com
http://youtu.be/0tWHxzEBe7w
Righteous Babe Record's Ed Hamell a.k.a. Hamell On Trial is a one-man punk show bringing you (mostly) loud, fast music informed by politics, passion, energy, and intelligence, played by a guy with a sharp tongue and a wicked sense of humor. 2011 launches Hamell into new territory, captivating audiences not only by his award-winning performances, but also a Kerouac-esque story of social commentary shaped through years on the road.
Equipped with a battered 1937 Gibson acoustic guitar he strums like a machine gun, a politically astute mind that can't stop moving and a mouth that can be profane one minute and profound the next, Hamell sets his sights on some classic subjects (sex, drugs, and rock and roll) and some personal ones, too. His performances invoke thoughts of the great rebellious comedians and social commentators of the past: Lenny Bruce, Bill Hicks, and even a bit of Sam Kinison. Hamell is a great mind; acoustic punk rock mixed with a traveler's soul. There's no way around his obscenity, but in that is a willingness to fight for the free-thinkers of the world. Hamell On Trial is a refreshing punk-rock bomb on the unsuspecting folk singer-songwriter world and above all else a preacher of common sense and truth.
LAURA JOY
http://laurajoymusic.com
Chicago-based singer-songwriter Laura Joy has been known to quell dark, angry bars full of ornery old Irishmen. Drawing comparisons that range from Joni Mitchell to Ani DiFranco, Laura's percussive finger picking and buoyant voice have graced audiences from as far as the Sun Belt to the streets of Manhattan Island. Growing up in Phoenix, Laura was raised on a steady diet of folk revival LPs and Gershwin classics. Since then, she has played in venues from Tempe, AZ to Boston, MA and busked everywhere from the 72nd St subway stop in New York City to Hyde Park in London. Last October, Laura was asked to perform at the Morristown Folk Festival in Morristown, AZ.
Laura has been featured in the Jezebel Music Songwriter Showcase at Laila Lounge in Brooklyn and was a member of NY/NJ Port Authority's exclusive "Tunes in the Terminal" program. She has opened for Nedra Johnson and Staceyann Chin in Brooklyn (Paradigm Shift NYC's Michfest Halfway Soirée) and shared a night at Fiddler's Dream in Phoenix, AZ with Raina Rose and Namoli Brennet. Laura continues to organize and host the successful Paradigm Shift Artist Showcase series highlighting feminist inspired art and performance at various venues across The Lower East Side in NYC.
Laura's most recent CD, "What I Know" was released on June 30th. The album was recorded and mixed by Dae Bennett at Bennett Studios in Englewood NJ, and was produced by Suzi Reynolds. Laura continues to play music wherever and whenever she can.
PARADIGM SHIFT: NYC'S FEMINIST COMMUNITY
Use the "F" word.
Change NYC. Change the World.
"Paradigm Shift is situated to be at the center of feminist organizing for this new era of activism."
– Michael Kimmel, PhD: Sociologist, Author
"Paradigm Shift is on the cutting edge of our feminist community."
– Clare Coss, Activist & Psychologist
"I can't believe I lived 16 years in NYC without Paradigm Shift. I love the events, the community, and the mission!"
– Jennifer Baumgardner, Activist, Author & Filmmaker
Paradigm Shift NYC is the New York City metro-area's critically acclaimed and largest feminist community group and event series. We've produced 40 sold out lectures, discussions, screenings, and performances featuring leaders in feminist thought, that range from artists and academics to filmmakers and policy activists. Paradigm Shift NYC events challenge and inspire attendees to contribute to the feminist movement by providing a unique and welcoming platform for expression and coalition building. In early 2011, Berkeley College commissioned Paradigm Shift to produce a four-part webinar series on domestic violence, LGBTQ community building, and creating sexual empowerment. We have partnerships with over 130 progressive organizations. TimeOut New York named Paradigm Shift "Critics' Pick" on 12 occasions, an unprecedented honor among progressive organizations.
JOIN US ON
MEETUP * FACEBOOK * TWITTER @PSHIFTNYC