Paradigm Shift NYC proudly presents our third webinar commissioned by Berkeley College.  Available to BC students and staff only- login.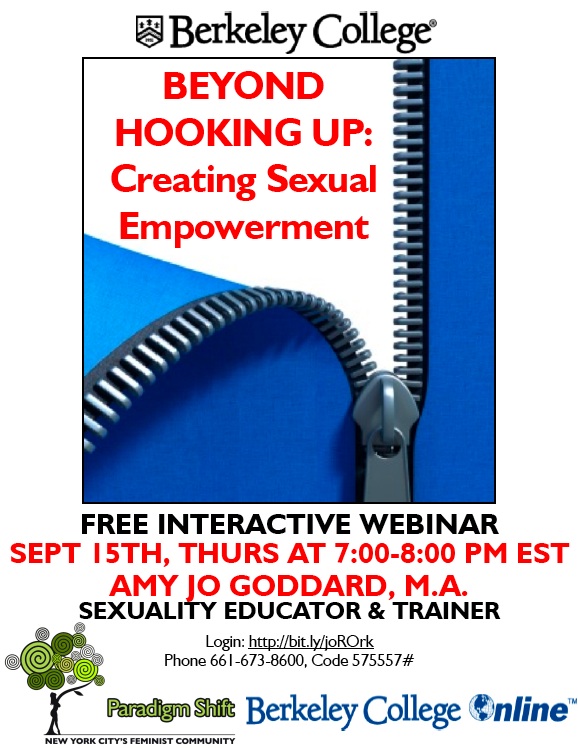 Amy Jo Goddard is a sexuality educator, writer, filmmaker, performing artist and activist. She travels to colleges, universities, communities and conferences teaching workshops and speaking about sexuality and maintains a private sex & relationship coaching practice. She currently facilitates her Women's Sexuality Empowerment Apprenticeship in New York City to assist women in growing their sexual lives. She is co-author of Lesbian Sex Secrets for Men and is a contributing author of All About Sex: A Family Resource Guide on Sex and Sexuality. Her article about queer performance artists and activism was published in 2007 in the Social Justice Journal and she has been published in numerous other publications including LOFT and Bust Magazine. Amy Jo was host of CherryBomb.com's web stream program "Fresh Advice," developing, researching, writing and performing over 60 episodes on women's sexuality. A professional trainer of sexuality professionals, medical students, college students and youth for fifteen years, she has taught courses relating to sexuality at the City University of New York and the University of California at Santa Barbara. Amy Jo specializes in women's health issues and has taught breast and pelvic exams to medical/nursing students for 9 years; and she is director/producer of the forthcoming documentary, At Your Cervix, a film that depicts this work.
Amy Jo came to the field of sexuality via her activism about women's health, women's reproductive choices and other gender issues. Her work as a comprehensive sexuality education and LGBT issues advocate led her to provide trainings on sexuality issues to professionals, including how to address sexuality as service providers, and how to effectively serve LBGTQ youth.
Amy Jo earned a Master's degree in Human Sexuality and Health Education from New York University and a Bachelor's degree in Literature and Creative Writing from the University of California at Santa Barbara's College of Creative Studies. Amy Jo's work is informed by her international study of human sexuality, her knowledge and experience with ritual and shamanistic work, her connection and service to women's communities, her own personal journey of sexual empowerment, and her deep work as a sexual being.
Berkeley College, established in 1931 as a business school, has grown since that time to a thriving multi-campus institution offering degree programs in a variety of disciplines. With seven locations in New York and New Jersey, Berkeley today offers programs that balance traditional academic study with professional training and hands-on experience.