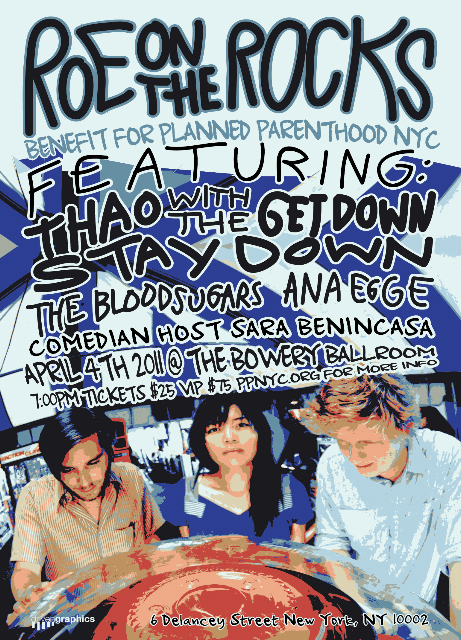 ***EVENT ADVISORY***
PRESS CONTACT: Erica Sackin – (212) 274-7294
Sara Benincasa, Thao with the Get Down Stay Down, Ana Egge, The Bloodsugars, And Pearl and the Beard PLAY FOURTH ANNUAL ROE ON THE ROCKS BENEFIT FOR PLANNED PARENTHOOD OF NEW YORK CITY
Concert Celebrates 38th Anniversary of Roe v Wade
New York, NY – This April 4th, 2011, At a time when our right to basic health care is under attack, Thao with The Get Down Stay Down, Ana Egge, The Bloodsugars, and Pearl and the Beard will play the fourth annual Roe on the Rocks benefit concert at Bowery Ballroom. Comic Sara Benincasa, of Wonkette, Comedy Central and CNN), will be the evening's emcee. All proceeds from the event will go to Planned Parenthood of New York City.
The Roe on the Rocks concert is held every year to recognize the anniversary of Roe v Wade, the historic Supreme Court Case which 38 years ago confirmed women's right to privacy and thus access to abortion services. The show couldn't come at a more important time – following three months of the worst attack on not just reproductive rights but the right to basic health care, that our country has ever seen. Past acts have included Regina Spektor, Clap Your Hands Say Yeah and (others).
What: 4th Annual Roe on the Rocks Benefit Concert for Planned Parenthood of New York City

Who: Sara Benincasa
Thao with The Get Down Stay Down
Ana Egge
The Bloodsugars
Pearl and the Beard
Other Special Guests to come
Planned Parenthood of New York City
Where: Bowery Ballroom: NYC 6 Delancey St, between Bowery and Chrystie, New York, NY

When: April 4th, 2011
Doors open at 7:00pm
Tickets: General Admission: $25 – VIP: $75

Tickets go on sale Thursday, March 3rd 2011
For event information, please contact Stephanie Demmons
For press information, please contact Erica Sackin
Since 1916, Planned Parenthood of New York City (PPNYC) has been an advocate for and provider of reproductive health services and education for New Yorkers. Serving more than 50,000 clients annually, PPNYC's health care centers in Manhattan, Brooklyn, the Bronx and Staten Island offer reproductive health services, including gynecological care, contraception, pregnancy testing, abortion, testing and treatment for sexually transmitted infections, and HIV testing and counseling. Through a threefold mission of clinical services, education, and advocacy, PPNYC is bringing better health and more fulfilling lives to each new generation of New Yorkers. As a voice for reproductive freedom, PPNYC supports legislation and policies to ensure that all New Yorkers—and, in fact, people around the world—will have access to the full range of reproductive health care services and information.