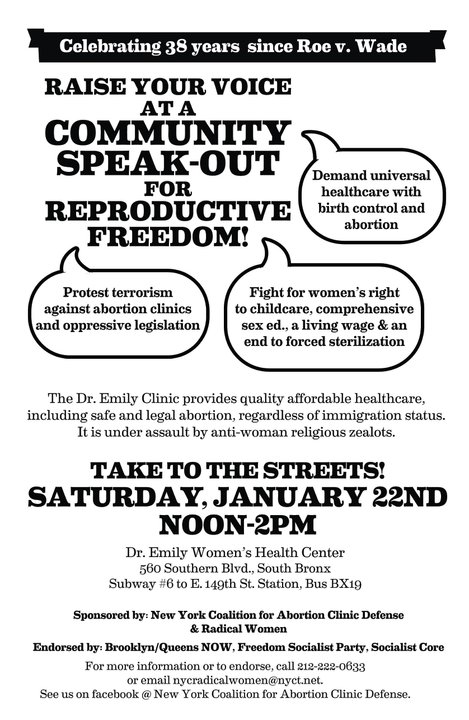 Saturday, January 22nd, 2011 – Celebrating 38 years since Roe v. Wade!
11am – Gather
We need people to help establish the space for the Speak-Out.  We have a permit and need people to help occupy as much space as possible so that the anti-choice forces can't.
12noon – Speak-Out
Come raise your voice for reproductive justice, to commemorate Roe v. Wade and the bravery of abortion providers in the face of increased terrorism against abortion clinics, and support a local clinic under attack.  See the attached flyer for a full list of demands and more details about the Speak-Out.
Dr. Emily Women's Health Center
560 Southern Boulevard, South Bronx
#6 Train to E. 149th St.
BX19 Bus to Southern Blvd & 149th
How you can participate:
Organizations-
1) Endorse! Email nycradicalwomen@nyct.net with your organization's name
2) Forward! Send this to your e-lists
3) Speak out! On 1/22 – all speakers are invited to bring their demands and share their stories connected to reproductive freedom.
Individuals –
1) Forward! Send this to your friends, make announcements at meetings, and help get the word out.  Flyers are also available for leafletting!
2) Join! "Like" the New York Coalition for Abortion Clinic Defense here.
3) Attend! Come early on 1/22 to help us establish our protest area
4) Early birds, if you can't attend (or even if you can!) we need help calling the media at 6am the morning of the event.
5) Speak out! Come to speak your mind about the reproductive freedom you want to maintain or the abortion provider who made the difference in your life.  Even if you wish to remain anonymous, you can give us a written statement to read on stage so that we can share your support for reproductive rights.
Interested in helping? Email nycradicalwomen@nyct.net or call 212-222-0633
Sponsored by: New York Coalition for Abortion Clinic Defense and Radical Women
Endorsed by: Brooklyn/Queens NOW, Freedom Socialist Party, Socialist Core, World Can't Wait, National Women's Liberation, Nieves Ayress Moreno-Trabajadoras por la Paz de NY, Brooklyn Law School National Lawyers Guild chapter.