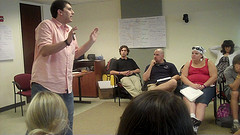 Named by the Catalogue for Philanthropy as "one of the best small charities in the Greater Washington region"
Men Can Stop Rape (MCSR)'s comprehensive "From Theory to Practice" Training has equipped thousands of professionals and activists in engaging men to prevent gender-based violence.Through interactive group exercises, role-playing, and multi-media presentations, "From Theory to Practice" prepares participants with the skills necessary to motivate men to take a more active role in challenging attitudes and behaviors that support rape and other forms of men's violence against women.
We are adding an additional training to our "From Theory to Practice" lineup! In addition to our January 5-7 training in Washington, DC, we will be conducting a January 19-21 training in New York!
Training Dates and Locations:
Register for the "From Theory to Practice" Training in DC
January 5-7, 2011
Center for Education on Violence Against Women – Washington, DC
Deadline to register: Dec 3, 2010
Register for the "From Theory to Practice" Training in NYC
January 19-21, 2011
John Jay College of Criminal Justice – New York, NY
Deadline to register: Dec 10, 2010
This training is for:
Victim service providers :: Educators and youth-serving professionals :: College and university personnel :: Peer educators :: Law enforcement :: Military SARCs :: Students and activists
The training equips the participant with:
A theoretical framework and introduction to social change theory as it relates to preventing men's violence against women
A comprehensive understanding of the Strength Campaign and its application
Valuable tactics for public speaking around these issues
Effective strategies for working with and engaging men and boys
Recognize the intersections between different types of oppressions (i.e. racism, classism, and heterosexism)
Thorough understanding of bystander intervention and how to facilitate MCSR's "Gut Check" Bystander Intervention training
Upon completion of the training each participant will receive:
50+ page training manual which includes presentation and facilitation guides
Access to a network of professionals in this field
Discounts for our public awareness materials, Strength Trainings, and Strength Workshops
Registration Cost
Registration is $500 which includes the full three-day training, breakfast each day, and MCSR's training manual. Travel and lodging is not included. Our trainings only allow for 20-25 participants so register online now!
Unable to attend either training? Request that we come to you!
MEN CAN STOP RAPE (MCSR) | creating cultures free from violence | www.mencanstoprape.org
Follow us on Facebook: http://www.facebook.com/mcsrape | Twitter: http://twitter.com/mencanstoprape