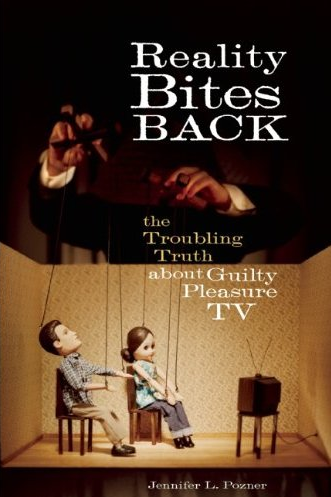 Join WAM! NYC and Women In Media & News as Jennifer L. Pozner, WIMN's Executive Director, reads from her new book, Reality Bites Back.
Nov. 4th Thurs. 7-9:30 PM
Bluestockings
172 Allen St., NYC
Facebook Invite: http://on.fb.me/b58K03
Why is reality television built on such blatant gender and race stereotypes? Why are women and people of color represented so harmfully, and with so much bias, in popular culture? What is "Frankenbite" editing, how many hours of tape are shot for every hour of reality TV aired, and how much cheaper is it to produce a reality show than a scripted program? Is it true that networks are simply "giving people what they want," or is reality TV really the result of media consolidation, media economics, and stealth advertising?
Find out at Bluestockings, NYC's leading indy progressive bookstore, at the first official stop on Pozner's book tour. For more information, seehttp://www.RealityBitesBackBook.com
Also announcing:
Reality Bites Back NYC Book Launch Party Nov 10!
Nov. 10, Wednesday 7:30 – 9:30 PM
Kush Lounge and Bar
191 Chrystie St. (bet. Stanton & Rivington), NYC
http://thekushnyc.com
Facebook invite: http://on.fb.me/cImXt1
After transcribing every episode of three seasons of "Flavor of Love," after NOT accepting "The Bachelor's" rose for fourteen seasons, it's finally here. So come help me (Jenn) celebrate the publication of Reality Bites Back!
The official NYC book launch party will be held at the fabulous Kush bar and lounge. Great people, tasty treats, strong cocktails, maybe some dancing… and a pile of books, 'natch. (Twist my arm, I'll sign 'em for you.)
Cohosted by:
* Women In Media & News: www.wimnonline.org
* Culture Kitchen's Liza Sabater (@blogdiva on Twitter) — who is cohosting this party to double as a NYC indy media and progressive tweet-up
Supported by: Paradigm Shift NYC
BOOKS WILL BE SOLD by NYC's progressive bookstore, Bluestockings.
RSVPs appreciated. See you there!